17.08.2012
The other day in one of the entertainment clubs of Smolensk the second corporate bowling tournament was held organized by the Council for working with the youth of IDGC of Centre — Smolenskenergo division supported by the trade union committee of the branch. The branch's employees met on the sports tracks of the bowling center in a friendly competition. 20 corporate teams were invited to participate, representing various services, departments and Districts of Electrical Networks.
Teams of three people should have to choose a name, choose a captain and have distinctive features. This was where the participants' fantasy played in earnest — the same colour T-shirts, the same ties, bandanas, caps, hats, badges, side caps, badges, vests, shirts, etc.
"The competition went with a good emotional mood of all the participants. Colleagues and family members came to support the teams and watched the progress of the game and cheered the participants up with slogans and advice. And it was much to see! From the ball strikes the pins got scattered in different directions, bringing a large number of points to the teams. The competition for the leadership played serious — until the last moment it was not known who would take the highest step of the pedestal", — says the event's host, Deputy Chairman of the Council for working with the youth Stanislav Antonenkov.
Each representative was trying to defend the sports honour of his or her team and fought with maximum effort. Finally the best was the team "Valkyrie" consisting of Specialist of category 1 of the sale of electricity transmission services Section Svetlana Tikhankova, Accountant of category 1 of the salary accounting Section Marina Pomozova and Economist of category 1 of the financial Section Lyudmila Sinitsyna.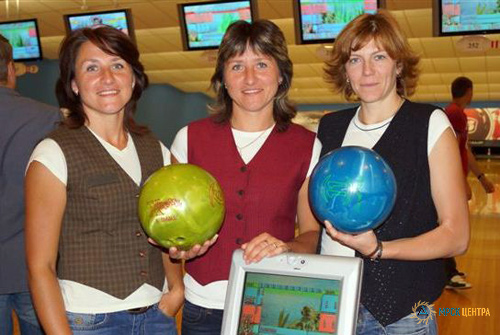 The representatives of the winning team traditionally represent Smolenskenergo and IDGC of Centre for sports competitions among enterprises and energy companies in different sports (volleyball, table tennis, athletics) and bring to the branch deserved rewards, so it is not surprising that they won a brilliant victory in the past tournament.
"In Smolenskenergo sport holds a special place. For all employees summer and winter sports days are held annually, trips to sporting events of IDGC of Centre and the Holding Company are organized, and many colleagues go to gyms, do various sports, have awards and titles", — explained Chairman of the Council for working with the youth Alexey Magon.