16.08.2012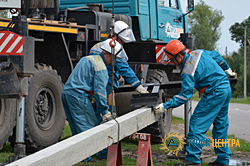 As part of the repair 2012 program specialists of Tambovsky District of Electrical Networks are performing repair of the low voltage network in the village of Stolovoye.
During the overhaul on the power line of 10 kV Tambov power engineers plan to replace 64 wooden single poles and 9 wooden anchor poles, about 4 kilometers of wiring. More than 900 thousand rubles will be spent on these purposes.
At the same time experts have almost completed restoration of maintenance equipment of transformer substations. During the repairs the foundations of Transformer Substations, wire holders and pole insulators, switchgear, and surge protection devices were replaced, painting was done with face lifting of operators' name plates.
In order to improve the reliability of electricity supply and reduce technical losses in power lines of 0.4 kV power engineers replaced the entry bushings in 136 households of villagers. About 5 kilometers of bare wire were replaced with self-supporting insulated wire (SIW). Self-supporting insulated wire features easy installation, durability, safety in operation. The reduction in costs both on maintenance and installation of lines is also significant. This is due to reliability — no fault in the wiring while whipping over due to strong winds, conductor galloping connected with sticking of wet snow and icing. Costs for this type of work will amount to nearly one million rubles.
Routine repairs of electric grid equipment in the village of Stolovoye will be completed within the term established by the maintenance program.
Thus, in the coming autumn — winter peak loads performance characteristics of power equipment will significantly improve, the transmission capacity of the distribution grid will increase, as well as the quality and reliability of electric power supplied to consumers.
For reference: 3.5 thousand inhabitants live in the village of Stolovoye of Tambov district in the Tambov region. The only electricity supply comes from the 10 kV Conductor at the 35/10 kV "Stolovskaya", which feeds 12 transformer substations with a total capacity of 2.15 MW.