16.08.2012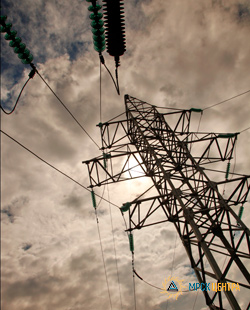 Experts of IDGC of Centre — Lipetskenergo division plan to install a new 40 MVA transformer at the 110 kV substation "Cement" by the end of August 2012. It will replace the burned-out in July this year by lightning transformer T1, which had been in operation since 1995.
The start-up the new transformer, which will operate in parallel with the running at the substation "Cement" power transformers T2 of 32 MVA and T3 of 63 MVA, will reinforce the power supply circuit of the SS "Cement", which feeds a part of one of the oldest districts of the city of Lipetsk "Falcon", the villages of Vvedenka and Ilyino. Among the largest facilities that receive electricity from the substation "Cement" — the operating Cement Plant.
By now the power engineers have completed the installation of three-phase oil power transformer on the foundation and started installation of attachments. Next stage will be the filling in the T3 with transformer oil to the standard level and a set of required high-voltage tests and commissioning. After that the transformer will energized.
The following year, at the substation "Cement" it is scheduled to reconstruct the indoor 110 kV switchgear, to replace 110 kV isolating switches and short-circuiting switches for modern, safer and durable gas-insulated circuit breakers, and to implement microprocessor-based relay protection, providing a high degree of information system development for electric energy processes.
The whole set of complex construction and electrical works at the substation "Cement" is being performed without limitation of electricity, all consumers receive electricity from reserve sources.
"Installing the new transformer — another contribution of power engineers to prepare for the autumn-winter 2012-2013 maximum loads. For the upcoming autumn-winter period the power engineers began to prepare already starting from spring to timely and efficiently complete the entire amount of the planned activities. However, in July the raging nature brought about changes in the work. This once again shows that it is not yet possible to completely eliminate the influence of natural factors on the power supply to consumers, but to reduce outage time — a real target. It is of particular relevance at low temperatures", — stressed Deputy Director for Technical Issues — Chief Engineer Alexander Kornilov.