07.08.2012
Yaroslavl power engineers of IDGC of Centre continue their work to prevent children's injuries at electric grid facilities. Specialists of IDGC of Centre — Yarenergo division conducted a lesson on electric safety in the children's summer camp named after Maxim Gorky. The event was attended by about 150 children. The purpose of the lesson was to give a clear understanding of the dangers to children of current and danger of approaching electrical installations.
Power engineers told the children about the properties of electric current and the dangers, often fatal, which it has, the rules of behavior near electric grid facilities. With the mannequin-simulator Gosha the actions of first aid to the affected as a result of electric shock were demonstrated, and personal protective equipment was shown how to use. At the end of the lesson Yarenergo experts gave the children colouring books and booklets on electric safety and also handed the leadership of the camp posters warning about the danger of electric current.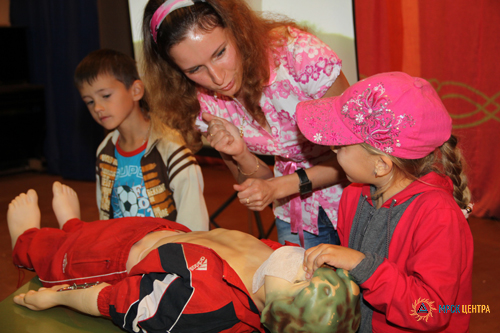 "The employees of Yarenergo conducted for the children of our camp a very useful and important lesson. They explained the rules of electric safety in a simple way, and demonstrate how to provide first aid. It's summer time now and kids are often left to themselves. Hopefully, the today's received knowledge will help them refrain from rash acts and keep them from the dangers which electricity sometimes conceals", — said Head of the Camp Evgeny Orlov.
Specialists of IDGC of Centre — Yarenergo division are engaged in the prevention of children's injuries throughout the year. In autumn power engineers will continue this work in schools of the Yaroslavl region.