06.08.2012
Experts of Yartsevo District of Electrical Networks (DEN) of IDGC of Centre — Smolenskenergo division held a lesson for students of Industrial College in Yartsevo on electrical safety.
In order to implement the program of IDGC of Centre to reduce the risk of injury to third parties at electric grid facilities in the period 2011-2012 the branch's staff conduct regular preventive lessons on electrical safety in educational institutions and health camps in the Smolensk region.
It should be noted that conducting such activities greatly reduces the risk of accidents at power facilities. "Forewarned — forearmed" — think Smolensk power engineers. Therefore, in their classes they talk in detail about the danger posed by the electricity, explain the rules for the use of electrical household appliances and behavior while being near power facilities. For children specialists of Smolenskenergo show learning animated cartoons and give colourful posters and colouring books on the subject.
The rules of first aid for electric shock were especially memorable for the children, which was introduced to the audience by Yury Bogachev, Senir Master on the simulator "Gosha". Just with its help, the branch's experts demonstrate the rules of intensive care for a person with electric shock and give children the opportunity to work out methods of chest compressions, ventilation, chest thrust, etc.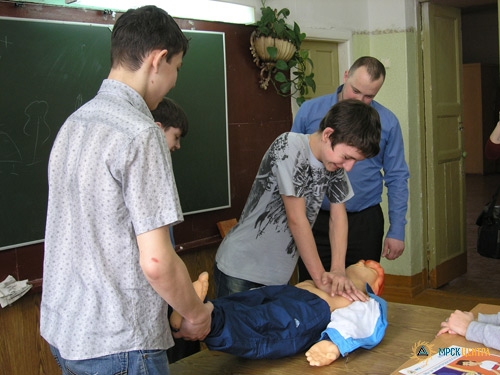 With passion and interest the children individually or in groups "revive" the dummy, which itself is able to "tell" the correctness of his rescuers' actions — on the body of "Gosha" there is a set of sensors that mimic such a reaction, as the appearance of the pulse at the carotid artery, which signals broken ribs, indicate the reaction of pupils to light. And thogh the young rescuers cannot always return the victim "back to life", they have the opportunity to practically apply their skills in the classroom and remember what serious consequences may result from improper handling with electric current.
"It's sure to say that these lessons are useful and necessary, — said the head of Yartsevo DEN of IDGC of Centre — Smolenskenergo division Valery Batiuk. — We hope that students and their teachers have gained a lot of useful information and will not forget the simple truths of electrical safety, which will help preserve the health and life".