03.08.2012
In July 2012 the Customer Service Centre of IDGC of Centre — Lipetskenergo division celebrated its 5 year-year anniversary. In honour of this event staff of the CSC had Open Doors Day.
During the event the anniversary client was awarded. It was Valery Zhuravlev, who visited the CSC on the issue of grid connection of a residential house. Receiving a gift from the hands of Head of Yeletsky CSC Valentina Buchenkova, he mentioned: "Thanks to the alertness of employees of the CSC, competent counseling that is now rarely found in other companies, I quickly solved all my issues. I am very pleased. Thank you and congratulations on the holiday!".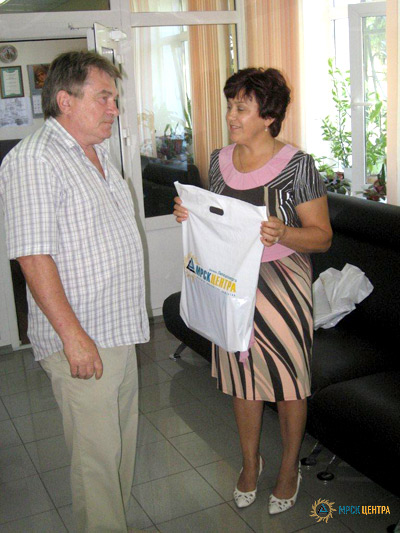 On that day every visitor had a gift — all the visitors at the CSC received gifts with corporate logo.
"Customer satisfaction with the quality of services provided — our main goal. Positive feedback from our customers — an additional incentive to further improve and expand our business. Following this task, for the convenience of our customers in terms of payment for services we have installed ATMs at the CSC office and opened a representative office of 'Post of Russia'. In order to improve the energy literacy of consumers we are doing large-scale systematic work to raise awareness about the procedure of grid connection, additional services provided by the branch. An important part of this work is round tables for customers, allowing to obtain current information on all energy issues, ranging from the grid connection procedure and ending on energy efficiency", — noted Head of Customer Relations of Lipetskenergo Ekaterina Zaitseva.
The effectiveness of the Yeletsky CSC is proven with the statistics of requests. For 5 years of work about 21 thousand customers visited the Yeletsky CSC. During this time the CSC employees provided more than eight thousand consultations on various issues of power supply, most of which concerned the service of installation and sealing of meters.
In recent years there has been a noticeable increase in the number of contracts for the provision of additional services. Among the services provided by branch are the maintenance and development of networks of outdoor lighting, maintenance and repair of electrical networks and electrical equipment, reconstruction of power grid facilities, testing and diagnostics of electrical equipment, installation and replacement of meters, placing ads at energy facilities. The most popular so far are contracts for the installation and replacement of electricity meters, which is due, primarily, to the need to comply with Federal Law on energy saving and energy efficiency # 261-FZ, whereby by July 1, 2012 the entire housing stock should be equipped with modern metering devices.
To effectively address a set of problems associated with electricity supply to consumers there are other two operating Customer Service Centers in the Lipetsk region — in Lipetsk and Dankov. Also for the convenience of our customers there is the around the clock Direct Power Hot Line of IDGC Centre at 8800 50 50 115 (toll free).