03.08.2012
IDGC of Centre — Yarenergo division perfomed lighting of a stadium and ski run in the town of Poshekhonye. The completion of the work was timed to celebrate the 235th anniversary of the district center.
Power engineers of Poshekhonsky District of Electrical Networks (DEN) of the branch provided lighting to the ski piste that runs along the perimeter of the city stadium. It is a large sports facility, which is popular with residents of the district center and surrounding villages. For its lighting employees of the DEN installed 11 poles, 8 energy efficient sodium lamps and pulled 800 meters of self-supporting insulated wire (SIW).
"Now in the stadium there will the only lighted ski run. This will allow skiers from Poshehonye to do their favourite sport in a more comfortable environment, including in the evening", — stressed Chief of Poshekhonsky DEN of IDGC of Centre — Yarenergo division Yury Dmitriev.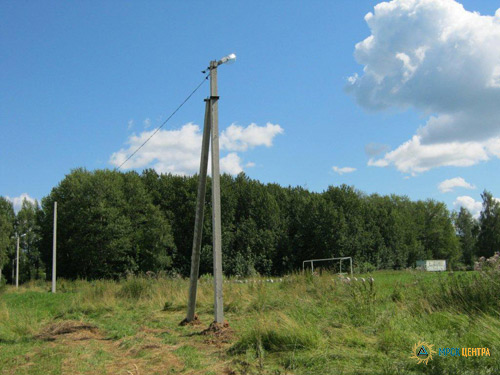 The work on lighting the piste was performed within the targeted program of reconstruction and development of outdoor lighting in 2012. 1.4 million rubles were planned for its implementation in Poshekhonsky district. These funds will spent to install 65 lighting fixtures, 32 poles, 9 outdoor lighting control cabinets, 8.6 km of SIW, and they allowed to implement energy-saving technologies and expand the ROWs along 10kV power lines. The implementation of the Program is in due course, and by November Poshekhonsky power engineers intend to complete the restoration of street lighting in the villages of Yasnaya Polyana, Yakovlevskoye, White and on Novoselov street in the town of Poshekhonye.