01.08.2012
Kostroma Customer Service Centre (CSC) has registered an honorary guest. The sixty thousandth visitor was Tatiana Kashina, who visited the CSC for her grid connection contract for a residential house in the village of Karavaevo of Kostroma district in the Kostroma region. The honorary jubilee client was personally congratulated by Head of customer interactions of IDGC of Centre — Kostromaenergo division Alexander Klimov.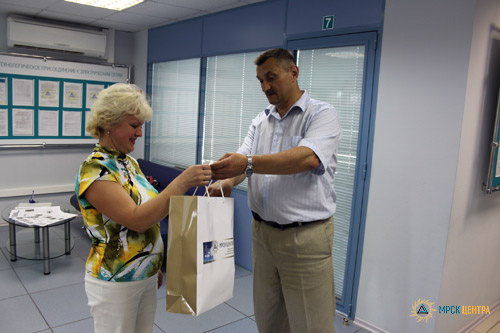 Tatyana thanked the staff of the CSC for the prompt processing of papers on the grid connection: "I want to note that the customer service in the Kostroma CSC on all issues is at a high level". The Guest Book of the Customer Service Centers is updated with new records of grateful clients. For 6 months this year more than 80 positive feedbacks have been received.
In the Kostroma region there are three Customer Service Centres in operation: the CSC in Kostroma opened its doors on August 15, 2007, the CSC in Sharya opened on July 1, 2008, and the CSC in Nerekhta — on July 2, 2008.
The main function of the Customer Service Centre of Kostromaenergo — helping consumers in matters related to contracting for grid connection to electric networks, the quality of electricity supplied and additional services rendered.
In addition to full-time work for consumers and there is an extramural form of the CSC operation: the Internet-reception at: http://www.mrsk-1.ru under "Clients" and the around the clock Direct Power Hot Line at 8-800-50-50-115 (toll-free). On this phone you can submit your application, report theft of electricity, get advice on additional services, and make claims for quality of power supply.
"Creating a favorable and comfortable conditions for our clients, openness and transparency — these are the basic principles of IDGC of Centre — Kostromaenergo division, which the Customer Service Centers help successfully implement — says Head of customer interactions of IDGC of Centre — Kostromaenergo division Alexander Klimov.