26.07.2012
IDGC of Centre — Yarenergo division held the fourth meeting of tourists "The energy of the summer — 2012". Power engineers actively and cheerfully spent their weekend, competing in contests that were invented for them by the organizers. Among the stages there was a "rope course" aimed at team work, team building and development of corporate values.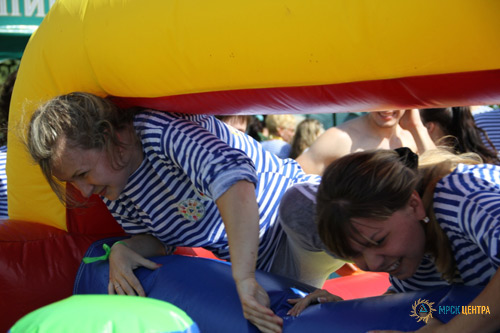 Conducting summer and winter tourist gatherings has become the branch's good tradition. They are always organized by the trade union organization of Yarenergo with the direct involvement of the Youth Council. These activities are of sports and recreational nature and make outdoor recreation fans of the executive staff and all Districts of Electrical Networks (DEN) of the branch gather together.
"The energy of the summer — 2012" was held on the picturesque bank of the confluence of the rivers Yuhot and Uleyma. More than 90 power engineers deployed a camp and organized a field kitchen. Chairman of the trade union Anton Sukharev and Deputy Director for Economy and Finance of the branch Kyrill Kamyshinsky opened the meeting of tourists.
The weather was clear, but it was decided to leave swimming and sunbathing for later. Participants of the meeting were to pass a team multiathlon. All competitions were aimed at the ability to work together to support and show reciprocity. Power engineers helped each other balance on the ropes in a rope town, jump on trampolines and squeeze between the walls of the inflatable castle. It was hard work in the contest "Collect the elephant" — ten people were to mate with each other so that there would be only four pairs of legs on the earth. In the creative contest they had to come up with a commercial for the DEN to recruit young professionals, to conduct a comic reportage of an event in the area. Particular attention was paid to the stage to simulate resuscitation on a traing simulator. The correctness of artificial respiration and chest compressions was evaluated by an instructor from MES of Russia. Not everyone was able to "revive" the dummy, but each participant received resuscitation skills.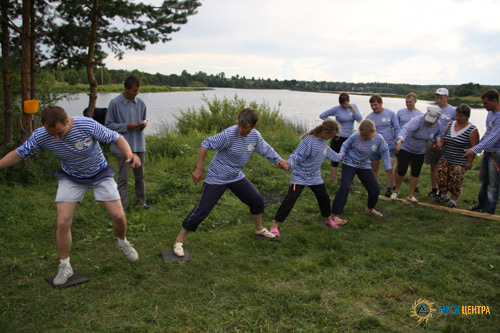 Activities continued after the completion of all competitions, as well as the next day. Employees of the branch played football, volleyball, swam and water skied. In the evening at the fire power engineers shared their impressions of the day and made plans for the next winter and summer tourist camping.
"When it comes to the self-activity, we often hear that people do not want to do anything, to exercise creativity. At the tourism rally there was a completely different picture. Our staff found many unexpected ideas, talented finds"- Member of the trade union, Representative of the Youth Council of Yarenergo Irina Zhivaya shared her impressions about the event.