17.07.2012
Today experts of IDGC of Centre — Belgorodenergo division especially for children of the Regional Social Rehabilitation Center for juveniles with a shelter held a lesson for the prevention of electric injuries.
As explained by Head of production control and safety Office Vladimir Rusanov, the main purpose of the lesson — to generate a culture of kids' safe handling of electricity, which is especially important on the eve of the summer holidays, when children have more time for games and walks. "The most important thing — to preserve the health of children. They must understand what is dangerous and what is not, how to avoid injuries. Child injuries should be ruled out entirely", — stressed Vladimir.
During the lesson, which took place in a specialized classroom of the Belgorod Electrical Networks, Vladimir Rusanov reminded the children that one must not come close, and, moreover, penetrate into transformer substations, climb poles of power lines, throw anything onto wires or play near power lines with kites. It is very dangerous to touch sagging and more over ragged wires. They must not be approached closer than 10 meters. If you see a ragged wire, you need to make your legs together and goose-step or jump to a safe distance away from the sagging wire. It is forbidden to open electric control boxes, to climb roofs and go into basements of houses where wiring and communication is situated. It was also explained to the children how to avoid home accidents. Why is not permitted to switch on devices with mechanical damage, especially damage to power wires, and why one must not insert foreign objects into the outlet, and touch electrical appliances (switches, sockets, lampholders) and grounded metal objects (heating radiators, plumbing and gas pipes).
Engineer for safety Tatiana Shmatko introduced the children to the robot simulator "Gosha", in which a special program is embedded that simulates the pulse, dilated pupils, etc. She showed how to do chest compressions and rescue breathing to a person with electric shock. And the children were also shown a variety of protective equipment that is used by power engineers at energy facilities in their daily work.
As part of exploring the work of the branch the children were in the Customer Service Centre, Grid Control Center, the operators of which perform continuous monitoring and management of 0,4-110 kV electrical networks. In the Belgorod Electrical Networks they learned the conditions of work and rest of power engineers. They learned various energy-saving technologies and operational experience of alternative sources of energy in the Center of Energy Efficiency.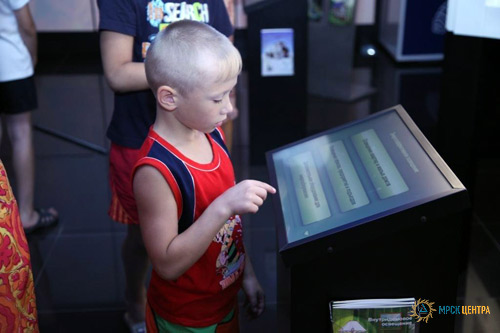 "For you this is no ordinary tour. While going through Belgorodenergo you can choose your profession which you will devote your later life to, — said Head of Administration Anna Ovcharenko. — If you choose a direction associated with power industry, then in future you will be able to find a promising and safe place of work with us".
Deputy Director for Education of the Provincial Social and Rehabilitation Center for juveniles Nadezhda Komartsova noted that for the children that tour was very useful. "Our younger children have learned a lot new. The Center for Energy Efficiency simply amazed them with the amount of useful information and how clearly and simply it was presented. And the older children have discovered for themselves the opportunity to devote their life to a new profession. And most importantly, we want to thank the power engineers for the lesson in which children were introduced to basic rules of electrical safety, which is very important during the summer holidays, when children are very independent", — stressed Nadezhda.
Please, note that this is not the first meeting of power engineers with children from the Social and Rehabilitation Center. On the first of June this year employees of Belgorodenergo organized an impromptu celebration for children with theatrical games, today they conducted a lesson on electrical safety, in the future the interaction of power engineers and children of the rehabilitation center is sure to be continued.