16.07.2012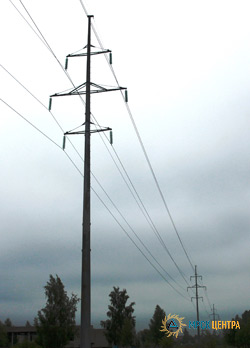 A stage has been completed to reconstruct the overhead power line 110 kV "Kostroma Motordetal-1", part of the overall conductor reconstruction project "Zavolzhskaya 1,2" with taps at the SS "North" and SS "Central". The conductor reconstruction, which delivered electricity to industrial enterprises and consumers to the north-east of the city of Kostroma, involves the replacement of poles, insulation and wire of the power line for some modern equipment that meets the requirements for reliability and quality of electricity transmission. A month's work on this section of the conductor has finished with its energization. The equipment is now included in the transit through the normal 110 kV circuit.
The reconstruction of the facility will increase the flow of transmitted power of the power line "Motordetal-Kostroma 1". This will enable the connection of new consumers. To date, the SS "North" and "Central" are connected to the transmission line with taps. In case of disturbances with this scheme the whole line will be disconnected. After the conductor reconstruction (changing the power supply circuit from tap to double-ended), then only a small section of the overhead power line will be off. Modernization of the equipment will improve the quality and reliability of electricity supply to consumers.
"The work is being conducted in the framework of the investment program of IDGC of Centre — Kostromaenergo division for 2012. The project involves the reconstruction and upgrading of the 110 kV overhead power lines of 'Kostroma Motordetal-1' and 'Zavolzhskaya 1,2' with a change in the power supply circuit in the city of Kostroma, — comments Deputy Director for Technical Issues, Chief Engineer of IDGC of Centre — Kostromaenergo division Evgeny Smirnov. — Within the project the reconstruction of these lines will be performed with entries in the major urban 110 kV substation 'North' and 'Central', which will greatly improve the reliability of electricity supply in most parts of the city of Kostroma, as well as consumers of the Kostroma region".
Full reconstruction of the conductor "Zavolzhskaya 1,2" is scheduled for completion in 2013.