16.07.2012
The seventh Safety Day this year has been held in IDGC of Centre — Yarenergo division. Power engineers worked out documents regulating the rules for safe performance of work at power facilities, checked staffing of workplaces with protective equipment, as well as conducted practical exercises to test the skills to free a victim with electric shock.
The aim of the Safety Day is to control observance of the rules of labour safety of power engineers and prevention of electric injuries. In Yarenergo on a monthly basis an overall program of activities of the Safety Day is developed, and the own program to raise issues of particular relevance for an individual DEN is prepared in the Districts of Electrical Networks (DEN) of the branch.
The Safety Day begins with a review of normative documents, in which all employees of the DEN participate. Requirements of new orders and instructions, changes in the instructions, diagrams, and lists are studied in detail. Analysis of observations and materials of investigations of disturbance is performed aimed at deepening the knowledge of technical experts and increasing reliability of electricity supply to consumers. This is followed by a mandatory inspection of staffing with protective gear, serviceable tooling and medical kits.
Practical exercises are a necessary part of safe work performance skills development of the staff. Electricians are trained properly to check the absence of voltage, install a grounding device, demonstration permit procedures for different types of work are held.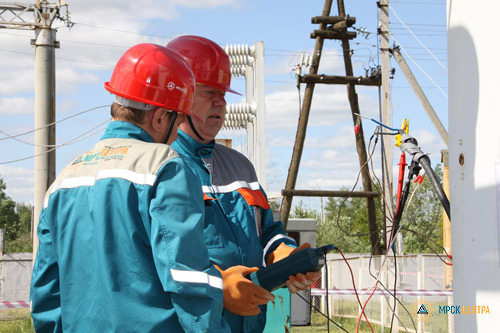 Subjects of classes in the DEN are defined by programs that are tailored to specific operations and safety measures. For example, the Rostovsky District of Electrical Networks has prepared a workshop on practicing the correct algorithm for operational switching sequence of load breaking switches with a spring drive. A session was organized for the staff of a crew for electrical equipment diagnostics and crews operating the distribution networks of four production sites of the district. The choice of subjects is due to the fact that the spring-driven switches require special skills and thus make up about 3% of the total number of switches in the service area of the Rostovsky DEN. Electricians encounter them quite rare, and this activity was intended to remind once again about the features of this switching equipment.
"Safety at work — is, first of all, proper preparation of a workplace and following safety regulations while performing work. Protective equipment shall conform to the list, to be serviceable and correctly used. It is also necessary in a strict sequence of works to comply with the technology", — stressed Chief of the Rostovsky DEN of IDGC of Centre — Yarenergo division Nikolay Volkov.