12.07.2012
As part of the approved program to reduce the risk of injury in 2012, IDGC of Centre — Belgorodenergo division assigned more than 67.6 million rubles for the purchase of advanced personal protective equipment, specialized clothing and gear. The use of protective equipment can make working conditions safer and more comfortable, as well as significantly reduce the risk of injury in the workplace.
To ensure the comprehensive protection of people the company acquires winter and summer special clothing sets, cotton underwear, heat-resistant sweaters, winter and summer special footwear and other personal protective equipment (PPE), resistant to an electric arc. High protective properties of the PPE tissue are explained by the presence in its composition of special aramid fiber, through which at high temperatures the fabric is sealed, isolating and protecting the human body from thermal burns.
Heat-resistant leather shoes with a nitrile outsole withstand temperatures of 300°C. Helmets with a shield and trim are made of impact-resistant and heat-resistant polycarbonate, knitted helmet liners and gloves are of heat-resistant materials, which include kevlar fiber. Underwear creates an additional layer of air, which "absorbs" heat flux.
This year, the branch has planned to purchase heat-resistant sweaters, which used in conjunction with heat-resistant suits should increase the level of safety of the suit.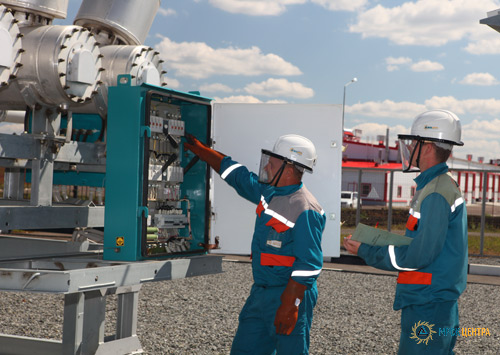 In addition, staff of Belgorodenergo was provided with clothing for protection from general production dirt and mechanical effects. And since 2009, the branch has been purchasing sets to work with a chainsaw, which includes a suit for protection against mechanical impacts, punctures and cuts, boots with metal inserts, a fluorescent helmet with hearing protectors and a metal shield, as well as vibration protecting gloves to work with a chainsaw.
To perform EGW work welder suits are bought to protect against sparks and molten metal splashes. This year for the pilot operation in Belgorod Electrical Networks two summer welder suits were provided, made from a new generation of fabrics that are significantly lighter than traditional. In addition, the branch was the first to acquire protective faceplates of a welder with an auto-darkening filter. To protect hands from cuts and punctures high-impact gloves with nitrile finish have been used instead of the combined gloves for two years.
Special care for power engineers (dermatological personal protective equipment (DPPE)) protects the skin from negative factors of production: frostbite and chapping, it cleans and restores the skin. With the help of special pastes the skin at the end of the day is cleaned, and then regenerating cream is applied onto exposed to harmful factors areas that moisturizes and nourishes the skin. In addition, staff is provided with repellents in the form of creams, aerosol cans, which protect against ticks and other insects.
The branch pays much attention to the provision of electric protective tools and accessories for employees. Each crew, which serves a 0.4-10 kV network, uses sets of portable grounding KSHZ-0.4 kV and KSHZ-10 kV. They are designed for grounding wires of disconnected 0.4-10 kV overhead lines without climbing a pole. KSHZ sets are installed from the ground as the first grounding on the overhead line, which provides safety and comfort throughout the work performance.
Currently brand new models of protective equipment are under trial operation, not previously used in the branch: safety straps that are used in high-altitude work with complexity and duration, and safety glasses with two removable films for paint work.