11.07.2012
IDGC of Centre — Kurskenergo division held competitions on track and field sports within the XIII Spartakiada Games of Power Engineers.
Teams, comprised of the best athletes of production sites and the executive office of Kurskenergo, competed in the race in four distances: 100 meters and 1000 meters — women, 100 meters and 3000 meters — men.
For the first time the team of the Western site took the victory in the team placing. Athletes of the executive office a little bit yielded the winners. Bronze medals were taken by athletes of the Central site of IDGC of Centre — Kurskenergo division.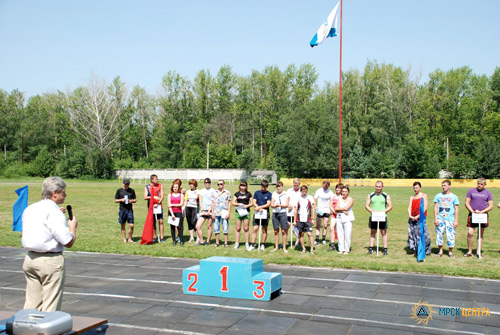 In the individual placing at the hundred-meter race for women the best result was shown by Engineer of production and technical group of Kurchatovsky DEN Svetlana Umerenkova. Among men the leader in the race was Engineer of technological connections Office Alexander Chuikov. At a distance of 1,000 meters the best was Engineer of the Central Diagnostics Laboratory of Diagnostics Service of the branch Olga Voloshina. At a 3,000-meter race the best was Electrical Fitter of substations Service of power lines Office of the branch Vladimir Bocharov.
At this year's Spartakiada Games there were new members who performed successfully. Thus, the second place among men in the 3,000 m race was taken by Electrician to repair distribution networks of Korenevsky EN Sergey Novikov.
"It's wonderful that power engineers show such interest in sports. Sport forms a unified corporate culture, unites the collective. And a cohesive team is capable of achieving high production results", — stressed Head of Human Resources Office of IDGC of Centre — Kurskenergo division Gennady Demekhin. He warmly congratulated the next sporting event's participants and presented awards to the winners.
Within the XIII Spartakiada Games it is yet to determine the best in mini-football, volleyball, chess and table tennis. Results of the Spartakiada Games will be announced in December on the eve of Power Engineers' Day.