11.07.2012
On the Day of Peter and Febronia the primary trade union organization of Bryanskenergo organized for employees of IDGC of Centre — Bryanskenergo division and their families a trip to the museum — reserve named after F.I. Tyutchev, which is located in the village of Ovstug.
Employees of the branch attended the service in Ovstugsky Church in memory of Orthodox Peter and Febronia in a theatrical tour "Union of the soul with a kindred spirit..." in various competitions and games. Children were happy to participate in the contest of children's drawing "The family — a house, the family — a world, the family — a fortress", visited a children's playground "Fun of the XIX century" and a tour of the mini-exhibition "The Miracle of the thorns". Also, under the guidance of mentors family members working at Bryanskenergo from scrap materials made "charms of family happiness".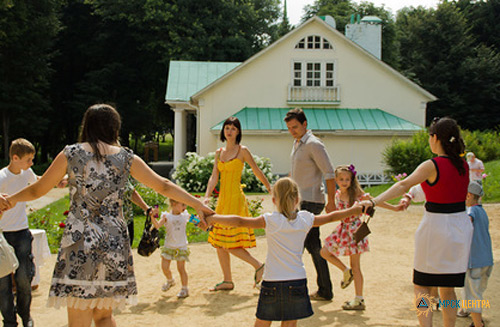 It became a tradition in Bryanskenergo on the day of Peter and Febronia to congratulate employees who from the celebration date of Family, Love and Loyalty Day to the date of next year got married. And every year, this holiday is celebrated in the branch in a special way. In 2012, seventeen employees of the branch got greeting cards and cash prizes in the native land of Feodor Tyutchev.
According to Deputy Chairman of the primary trade union organization of Bryanskenergo Yulia Ermakova, the branch focuses on the implementation of its social policy aimed at creating and strengthening families. So the Day of Peter and Febronia at the branch is one of the most beloved Orthodox holidays.