09.07.2012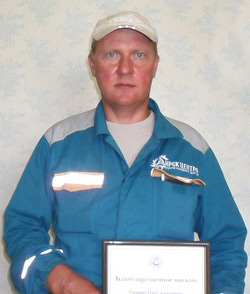 For a great contribution to the development of the electric distribution grid complex and the fourth anniversary of the incorporation of IDGC Holding Employee of IDGC of Centre — Kostromaenergo division Oleg Ulyanin was acknowledged by Director General of IDGC Holding.
At a meeting of the governing board of Kostromaenergo Deputy General Director of IDGC of Centre — Kostromaenergo division director Alexander Glebov congratulated the power engineer with an honorary award and thanked for his work and wished further professional self-improvement.
Electrician for operation of distribution networks of Susaninsky District of Electrical Networks Oleg Ulyanin has been working at Kostromaenergo for more than 20 years. Oleg began his work at Kostromaenergo in 1991. He combines the duties of an electrician, operating distribution networks of category 4 and a driver. During his work in the company, he studied and mastered the peculiarities of operation and maintenance of distribution networks and the power supply circuit of Susaninsky district. As part of a crew of electricians, operating distribution networks he services 180 transformer substations, overhead lines of Susaninsky district with a total length of 540 km. With his direct participation in 2011 thirteen 10/0.4 kV package transformer substations were renovated. He eliminated the disturbances in the distribution networks caused by abnormal weather in the winter of 2010-2011.