03.07.2012
Voronezh Customer Service Centre (CSC) received its twenty thousandth visitor and it was a resident of the village of Shilovo Sergey Dunayev, who requested a grid connection of his house being built to electric networks.
Deputy Head of sale of services of the Voronezhsky District of Electrical Networks Alexey Tambovtsev personally handed to the milestone client the grid connection contract for his new house, and Head of the CSC Elena Nemirovich-Danchenko presented souvenirs.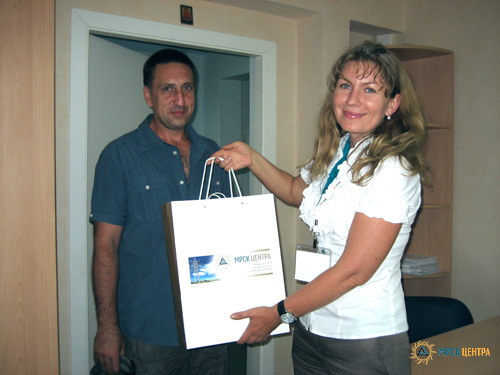 According to Sergey Dunayev, he was pleasantly surprised by a deep understanding of his issue by the CSC staff and speed of their work (the preparation of the contract took less than two weeks), and the fluke, under which he became a jubilee visitor, enhanced his good impression from his visit to the Customer Service Centre.
Elena Nemirovich-Danchenko noted that the celebration of the jubilee visitor of the CSC have become a tradition of Voronezhenergo, for which interests of potential and existing customers have always been a priority in the work.
In the Voronezh region there are 33 CSCs in operation any of which consumers could visit. Employees of the Centers provide clients with advice on the grid connection procedure, complete information on additional services provided by the branch, as well as give answers to questions concerning power supply.
Also, on all matters relating to the activities of the branch, you may get advice by calling the around-the-clock Direct Power Hot Line of IDGC of Centre at 8-800-50-50-115 (toll free).