03.07.2012
A training on "Organisation of time. From the personal effectiveness to the organization's effectiveness" was held in IDGC of Centre — Tverenergo division on the site of the Training and Production Centre. Under the instruction of Candidates of Psychological Sciences 13 heads of departments of the branch were introduced to technologies of the individual time management and learned how better to organize their activities by controlling the time and scheduling tasks in a timely manner.
During the meeting, several mini-lectures were read, which told the participants about the technologies of setting priorities in solving production problems, as well as taught to select and formulate quantitative performance indicators and track them over time.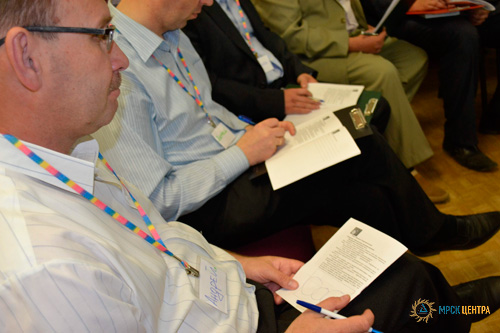 The training took place in lively atmosphere of a constant dialogue. In one of the creative tasks each participant was asked to represent their past, present and future, being able to draw only three circles. Managers of Tverenergo found many creative options that says about their skill to respond quickly to the situation and the ability to quickly solve the tasks. The event included a variety of practical problems, which were solutions of cases, collaborative project development, introspection, brainstorming and individual creative exercises.
According to Head of Human Resources Office of IDGC of Centre — Tverenergo division Sergey Zhirkov, the time - the only irreplaceable resource of a person, and therefore its cost-effective and prudent use arranges the activity process making it more efficient and better in quality.