02.07.2012
26 students from higher education establishments of the Tambov region are having their practice at IDGC of Centre — Tambovenergo division. Students gain their first skills in their future profession in such subdivisions of the branch as relay protection and automation service, service of substations and service of power lines, as well as in Tambovsky District of Electrical Networks. Since the beginning of 2012 more than fifty young people have had their practice at the branch.
IDGC of Centre — Tambovenergo division pays special attention to work with the staff. Each year, the branch holds production and undergraduate practice of students and alumni of energy faculties. It enables executives to assess personal and business qualities of future power engineers, their ability to further work.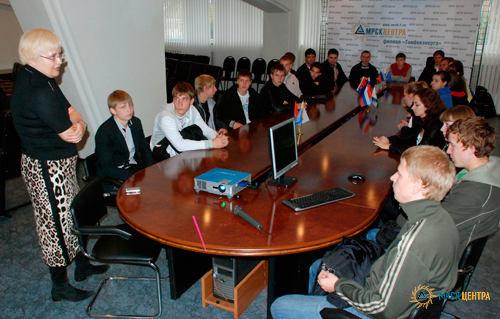 Before getting down to work in the team, young power engineers got acquainted with the rules of labour protection and were briefed on safety. During the month, students will receive theoretical and practical knowledge, participate in seminars, as well as in the production activities of the branch. The main task for the future power engineers in the industrial practice is to acquire professional skills in their specialty, solidification, expansion and systematization of theoretical knowledge gained in the study of special subjects, as well as the adaptation of graduates in the workplace.
Most young people — students of 3-4 courses of Tambov State Technical University (TSTU). Cooperation between Tambovenergo and TSTU on training energy experts has dozens of years. Since the founding of the university its graduates have been the core of staff of Tambovenergo.
"The future of the Tambov power system depends mostly on young professionals, so we pay special attention to working with young people, in particular, — with students. We are serious about forming personnel reserves — the industry requires continuous professional development of staff and coming of young skilled employees. It is the just objective of joint work of Tambovenergo and management of major regional universities. During the practical training in the branch students are involved in the workflow as much as possible. Under the guidance of supervisors from the staff of the company, they try their hand at solving those problems with which they will have to work in the future", — stressed Head of Human Resources Office of IDGC of Centre — Tambovenergo division Olga Vyazovova.