28.06.2012
Specialists of IDGC of Centre – Kurskenergo division conducted electrical safety lesson for children having rest in the school summer camp of Timskaya secondary school in the Kursk region. The event was attended by 46 children aged from 7 to 13 years.
Chief of Timsky District of Electrical Networks (DEN) Oleg Evstratov told the schoolchildren about the correct handling of electrical appliances and the behavior near power facilities.
Experts of the training centre of operating personnel of Kurskenergo showed the schoolchildren a video on electrical safety. They learned from it why not approach any broken wire, climb poles of power lines, enter into the territory of electrical substations, what signs marked on electrical equipment mean, and why close doors and windows during a thunderstorm.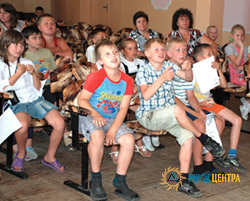 Power engineers also reminded the children about the handling electrical household appliances. The schoolchildren learned that one cannot use an electrical outlet receptacle with a damaged housing, and also to turn on electrical appliances with broken insulation of power cables. The most important safety rule when dealing with electrical household appliances – is to consider that they are under voltage, if there is no certainty in the opposite.
Deputy Director of the school of Igor Edykin thanked the staff of Kurskenergo for the informative and useful conversation: "These lessons are especially important during the summer holidays, when children are not always supervised. And the information received at the electrical safety lessons will help children make the right decisions in difficult situations".