26.06.2012
At the beginning of the summer employees of 18 Districts of Electrical Networks of the Kostroma region taught lessons on electrical safety in school camps. In Nerekhtsky, Volgorechensky, Ostrovsky, Krasnoselsky, Kologrivsky, Makaryevsky and Pyschugsky districts the emphasis was placed on the younger pupils. The children were told in simple terms about the dangers of electric current, electrical safety rules on the street, as well as the proper use of electrical appliances. At the lessons the pupils saw a video, which clearly shows the consequences of "electric ignorance". The children had particular interest in protective devices that power engineers use to work with power equipment. Schoolchildren of senior classes of Kostromsky, Sudislavlsky, Neysky, Kadyysky, Vokhomsky, Parfenevsky and other districts also received practical skills in first aid on a dummy-simulator "Gosha".
"It is good that power engineers developed a special program on electrical safety, — said the director of Makarevsky secondary school # 2, Svetlana Baranova. — This is especially important in anticipation of summer holidays, when many children are left without adult supervision and may face the risk of receiving electric shock. It should be noted that the lesson on electrical safety corresponded to the characteristics of school age and contributed to the formation of safer behavior among children. And the fact that the pupils listened attentively to the teacher and correctly answered questions spoke about the effectiveness of the training. But the most important outcome of the meeting is, in my opinion, that at the end of the lesson the children thanked the teacher for useful information. It speaks for itself".
Totally the lessons for the prevention of children's injuries in early June were conducted in 34 schools in the Kostroma region. Vladimir Karpachev, Head of Production Control and Safety Office of IDGC of Centre — Kostromaenergo division, analyzing the classes taught, stresses: "The risk of electric injury is increased during summer holidays. Prevention of electric injuries must be regularly conducted, information on accidents among children and adolescents is to be communicated to schoolchildren, just what in the classes on electrical safety was told. Pupils should be aware of the danger of electric current".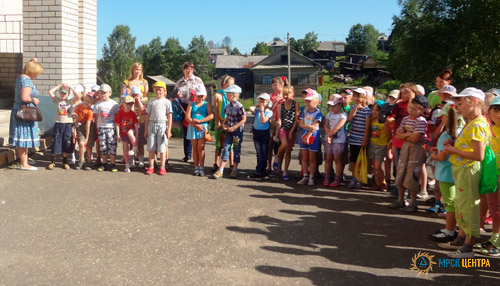 Lessons on electrical safety — it is only one form of work with children and adolescents in the program for the prevention of children's injuries. In addition, under this program Kostroma power engineers of IDGC of Centre place in children' care centers, at playgrounds posters and leaflets that describe in simple terms for children and parents about risks of electric current. For teachers power engineers organize educational seminars. Teachers use the information obtained on lessons of life safety, conduct discussions during classroom hours and parents' meetings.
In summer, specialists of structural units of the energy company will continue to work on prevention of children's electric injuries and conduct issue-related classes in school and recreational camps.