13.06.2012
Customer Service Centre of IDGC of Centre – Tverenergo division in Bezhetsk summarized three years of its activity.
For 3 years the specialists of the CSC took over 590 applications for grid connection, more than 1840 applications for value added services, performed 2585 consultations on issues related to electricity supply.
Work at the Center is performed in different directions, which allows consumers to comprehensively address all the issues. Experts of the CSC accept applications for grid connection and an increase in power and voltage, replacement and sealing metering devices, maintenance and repair of private package transformer substations and overhead power lines, assist in the collection of documents for submission of applications by physical and legal persons.
The work of the Customer Service Centre for three years has shown that it is in demand by consumers as evidenced by over 980 positive feedbacks left by visitors since the opening of the CSC.
The Centre operates as a single office, thus significantly reducing the time spent on customer counseling, filing applications and requests, coordination of documents and conclusion of contracts.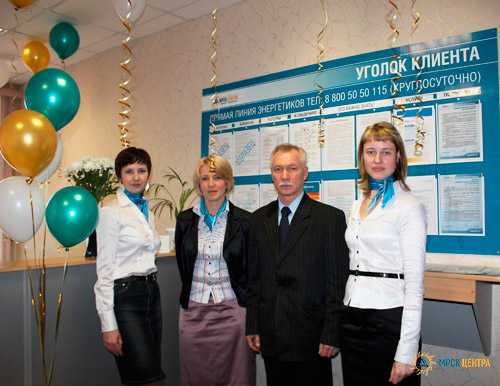 The staff of the CSC conducted three round tables with physical and legal persons on energy saving and technological connection, and organized a meeting on energy saving in households. In December 2012 the specialists of the Center in Bezhetsk conducted a drawing competition among school children on the theme "Energy", drawing attention of children and their parents on the proper handling electrical appliances.
The honorable three thousandth visitor of the CSC in Bezhetsk was Zinaida P. Moiseeva, who filed an application for grid connection of a residential house. In a solemn ceremony she was congratulated by Head of the Centre of IDGC of Centre - Tverenergo division Oleg Stepanov, handing flowers and a commemorative customer certificate.
"Consumers are interested in quality and timely service in regards with power supply issues, just for this specialist s of the branch perform large-scale work every day, - stressed Oleg Stepanov. – There are big plans ahead, which aim to develop the functionality of the Customer Service Centre, which is a logical and necessary step to improve the comfort and convenience of consumers".