08.06.2012
Voronezh power engineers together with government agencies conducted a comprehensive exercise for fire fighting a forest fire and restoration on the 110 kV transmission line.
The large-scale event, in addition to a first responding mobile crew and a power line service crew of IDGC of Centre - Voronezhenergo division, was attended by task forces of the General Directorate of Emergency Ministry of Russia in the Voronezh region, fire brigades of the Department of Forestry, ambulance crews of the Department of Health, a group of control over sanitary-epidemiological situation in the region of the Directorate of the Rosprirodnadzor, etc.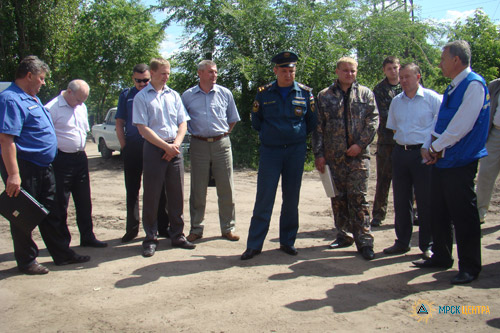 According to the scenario of the exercises a fire occurred in the forest as a result of careless handling of fire by people who rested. Due to the dry and hot weather, lack of rain and increasing wind the fire spread to the nearby 110-kV transmission line, moving in the direction of the substation "Nikholskaya".
In that situation the objective of the arrived at the place brigades and crews was the prompt evacuation of the people from the fire spreading area, isolation of fire and electricity resupply to the de-energized Left Bank district of Voronezh.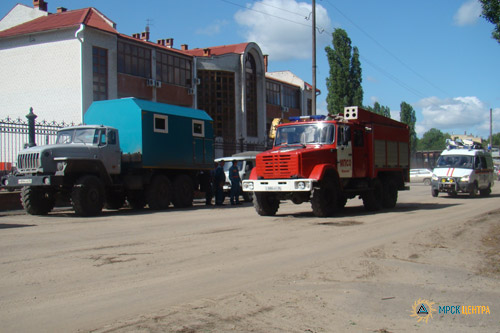 Voronezhenergo provided 3 pieces of machinery and 8 people for the exercises, ready at any moment to proceed to measures to restore electricity supply.
According to Deputy Chief Engineer for operational and technological management - Head of Grid Control Centre of IDGC of Centre – Voronezhenergo division Sergey Demidov, the first responding mobile crews of power engineers are constantly faced with the need to quickly solve the most difficult tasks, therefore, they have sufficient experience and all the necessary tools to work in an emergency.
Forest fireproof and other units that participated in the exercises also showed the efficiency and coherence in the fire-fighting actions. It was also noted by Chief of Management Headquarters - Deputy Head of the Russian Ministry for Emergency Situations of the Voronezh region Yury Gushchin summarizing the results of the exercises: "All the trainees successfully interacted with each other, quickly responded to the tasks and generally showed a high level of training".