06.06.2012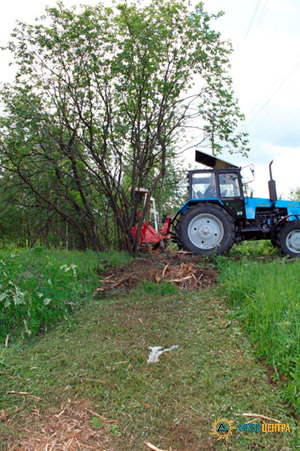 Clearing and expansion of ROWs along conductors is one of the most pressing issues in IDGC of Centre - Kostromaenergo division. Practice shows that a significant number of disturbances is caused by falling trees onto power lines as a result of natural phenomena, as well as shoots overlapping wires of overhead lines.
As at the beginning of June 2012 ROWs along conductors in an area of 250 hectares have already been cleared, totally in the current year it is planned to clear 1,800 hectares of ROWs off vegetation. It should be noted that Kostromaenergo is using both a manual way of clearing and mechanical (with the help of heavy machinery).
Starting this year, ROW clearing along overhead lines is being performed using mulching technology. The advanced mulching technology has more advantages than the traditional mechanical, and even more as the manual, due to its cost effectiveness, fire and environmental safety. The mulching method in a single operation allows not only to cut the vegetation, but also to crush it, and to mix some wood chips with the soil.
In addition, to avoid damage to overhead power lines due to falling trees onto wires and related power interruptions and to ensure public safety Kostromaenergo has developed a multi-year program to expand ROWs, according to which the planned expansion in 2012 will total 428.3 hectares . In order to implement this program IDGC of Centre - Kostromaenergo division with the participation of Forestry directors and RTN supervisors conducted a commission survey of forest areas along the ROWs, planned for expansion in 2012 with making survey certificates.
Since the beginning of the year 49.62 hectares of ROWs along conductors have been expanded, which exceeds the planned figures by 87%. In some areas it is planned to perform work with the assistance of mechanized logging industry. Performing the expansion in the branch is organized in coordination with the Forestry Department in the notification procedure in accordance with applicable law.
"A significant proportion of overhead power lines owned in Kostromaenergo is the grid that was constructed back in the 60's and 70's of last century – during the period of mass electrification of the region. Currently, the height of trees in many areas reaches 25 - 30 meters, their fall could lead to breakage of wires and interruption of supply lines. In addition in Kostromaenergo more than 4.5 thousand kilometers of 6-110 kV power lines pass through forest swamps with a total area of ROWs over 11,000 hectares and more than 2600 kilometers of overhead lines pass through uncultivated land for agricultural purposes with an area of ROWs more than 6 thousand hectares. Therefore, the reliability of power supply of the Kostroma region depends on the timely ROW clearing and expansion along overhead power lines,"- comments Deputy Chief Engineer - Head of production assets management center of the branch Andrey Meluzov.