31.05.2012
By the end of 2012 it has been planned to overhaul 22 substations of 110/35/10 kV in IDGC of Centre – Kurskenergo division. The major work will be performed at the substations "Besedino", "Basovo", "Rylsk" and "Olkhovka". At these facilities within an integrated overhaul program routine repairs will be performed at 34power transformers of 110- kV 35, 254 oil circuit breakers of 110-10 kV and 177 disconnectors will be overhauled.
One of the first activities was started at the 110/35/10 kV substation "Rylsk". The reliability and quality of power supply of Rilsky, Glushkovsky, Korenevsky districts of the Kursk region depends on this substation. According to the schedule the repair of the substation will be completed in August. The types and amount of the work done at major repair of substation equipment are governed by the requirements of normative-technical documentation (NTD). Works are carried out strictly according to the approved process flow diagrams.
Thus, in accordance with the requirements of the technical documentation during the execution of a comprehensive repair at the SS 110/35/10kV "Rylsk" heating of tanks of 35 kV oil switches are to be repaired, oil leaks through thermosiphon filters of power transformers are to be removed, stress cones of the 10 kV bridge bus of transformer T1 are to be replaced, the colour of phases is to renovated and SCADA names are to be put onto equipment corresponding to the Standard.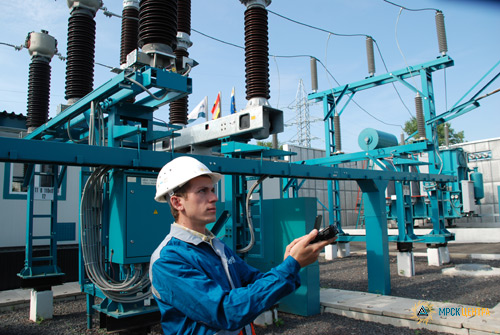 When performing repair of high voltage equipment modern technologies and materials are used in Kurskenergo that increase equipment life, reduce the cost of scheduled maintenance.
At 35-110 kV substations gas-insulated high-voltage 110 kV circuit breakers, 6-10 kV vacuum circuit breakers and current and voltage transformers of 35 kV with cast insulation, modern 35-110 kV disconnect switches with polymer insulation are used. Construction of 2-circuit tap of 110 kV at the "Central" substation from the 110 kV "TEC-1 - Forest" # 1,2 is being performed in the overhead and cable design.
Installation, maintenance and repair of such equipment requires thorough knowledge of the staff of the subject matter, experience, continuous improvement. For each category of employees an individual program is developed in Kurskenergo. Particular attention is given to the labour protection, safety at work places. Each year, staff is trained to provide first aid to the victim. These skills are improved during competitions on professional skill of integrated crews of substation and power line services.
"All our activities are aimed at the progressive replacement of fixed assets, increased security and reliability of electrical networks, which can withstand extreme weather conditions and required consumer load", - said Deputy Chief Engineer - Head of high-voltage grid Office of IDGC of Centre – Kurskenergo division Sergey Skornyakov.