30.05.2012
Customer Service Centre of IDGC of Centre – Bryanskenergo division celebrated the fifth anniversary. On the CSC's birthday the branch's employees gave gifts to clients.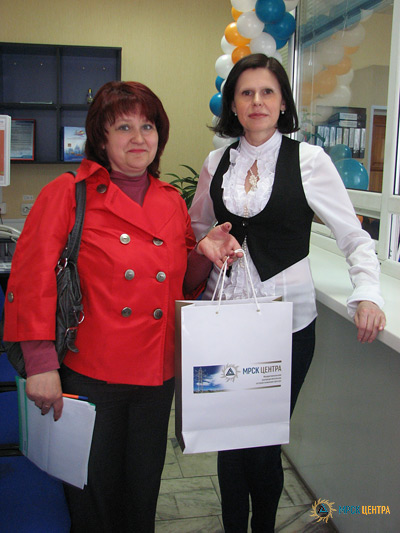 The Customer Service Centre was opened in 2007 in the executive office building of Bryanskenergo. In June and July of that year offices of the CSC were opened in the cities of Klintsy and Pochep.
In 2010 all the branches of the CSC recorded 4979 requests. In 2011, the number of requests rose by 41%. Most of them - 4499 applications - were registered in 2011 in the branch of the CSC, which is located in the city of Bryansk. Most of all - 4027 times - last year the region's residents visited the branch with applications for the provision of additional services, a little bit fewer - 3244 times - the region's population requested for consultations.
According to Head of the Customer Service Center of IDGC of Centre - Bryanskenergo division Gregory Plevkov, after opening the CSC significantly the number of customers applying for service delivery to Bryanskenergo has increased. Highly skilled staff works at the Customer Service Centre of the branch, who can give satisfactory answers to all questions relating to electricity supply and provision of additional services.