18.05.2012
IDGC of Centre – Kostromaenergo division is included in the register of employers complying with labor rights guaranteed to employees under the "Declaration of the company to implement the labor rights of workers and employers". The "Certificate of Trust to the Employer" with a record of it was handed to the representative of Kostromaenergo in a festive atmosphere at the meeting of the Kostroma Regional Interdepartmental Commission for Labour Protection.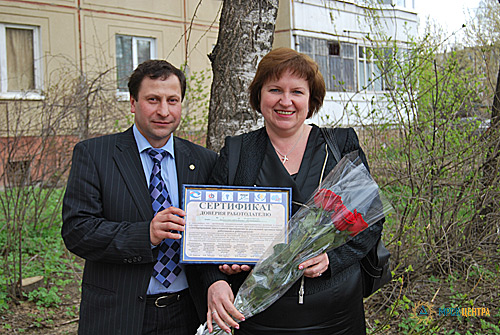 The companies participated in the project under the condition of their compliance with the requirements of labor legislation. The organizers of the project: the regional offices of the State Labour Inspectorate, the Federation of trade unions, the Chamber of Commerce, the Department of Labor and Employment of the Kostroma region, employers' association "Kostroma Union of Industrialists" - assessed the declared by the participants performance in the field of labor protection under 24 items. Among them: union contract conclusion, the lack of wage arrears, conducting employee training on labour protection, providing employees with certified personal protective equipment, etc.
Particular attention at summarizing was paid to the applying organization's verification of workplaces on the conditions of safety and the implementation of funding for health and safety. Thus, IDGC of Centre – Kostromaenergo division for 2010-2011 verified 1495 workplaces, it is planned to certify 297 workplaces in 2012, which will ultimately be 100%. The branch spent 18.3 million rubles on the implementation of labor protection measures in 2011, the planned funds for the current year have been increased by 15%. Considerable importance was the fact that last year Kostromaenergo was awarded a diploma at the regional stage of the All-Russian Contest "Russian Organization of High Social Efficiency".
"Certificate of Trust" is valid for 5 years. During this time Kostromaenergo is exempt from routine audit in compliance with labor laws. The purpose of the certification is to confirm the trust relationship between the regulatory bodies, employers and employees.
"Participation in this project for Kostromaenergo was a serious step. We have declared about overall implementation of the labor rights of our employees in compliance with principles of social partnership in the organization. "Certificate of Trust" is a well-deserved recognition of the high level of social responsibility of our branch as a representative of the employer", - says Head of Human Resources Office of Kostromaenergo Nadezhda Muravyeva.