14.05.2012
IDGC of Centre – Smolenskenergo division is continuing its systematic work to prevent children's injuries at power grid facilities. Recently, within the program a lesson on electrical safety was conducted at secondary school # 35 in Smolensk. The event was organized by the department to work with customers of the branch and held for the third grade pupils.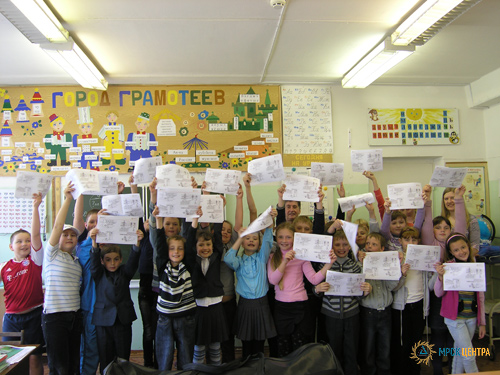 Such lessons, as well as classes at summer recreational camps are an effective form of learning the basics of electrical safety in schools. These activities are an important part of the branch's activity to prevent injuries to third-parties at electric grid facilities. They are aimed at making children aware of the danger of electric shock and mastered the rules of electrical safety.
Specialist of industrial control and safety Office of the branch Viktor Korotayev spoke at the event in the role of the teacher. The traditional beginning of the lesson is the story of the electric current and its effect on the human body. Having listened carefully to the power engineer, the pupils asked him questions and shared the facts of their life.
However, the most fascinating part of the lesson was practical to drill actions during resuscitation of people with electric shock. The power engineer spoke in detail about the procedure and the correct first aid provision to the victim. The system of mechanical and electronic sensors of the simulator allows to work out the proper technique for the implementation of artificial respiration and chest compressions.
"Dummy-simulator named "Gosha"- a favorite of Smolensk schoolchildren, he "revives" any of our lesson. Children gladly work out skills, compete in accuracy and precision of actions, are genuinely happy for their classmates who had managed to "rescue" the victim, - said Victor Korotayev. - I hope that the knowledge received in class will help children not only avoid the dangerous action of electricity, but warn their friends, and, if necessary, assist other people".
The representatives of Smolenskenergo left colourful theme posters, colouring books and memos as a gift to the children, in which each pupil in the form of a game will be able to fix his or her own information on the safety rules relating to electricity.