28.04.2012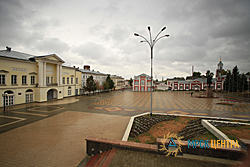 The implementation of regional programs that promote social and economic development of the Lipetsk region is being performed in close cooperation of local authorities with power engineers of IDGC of Centre — Lipetskenergo division.
Thus, the branch's experts performed the grid connection of a mini-dairy plant agricultural cooperative "Prestige" in the village of Petropavlovskoye of Terbunsky district. This is the first enterprise of this business in Lipetsk land.
To supply power to the new agricultural facility the power engineers constructed 485 meters of overhead power lines, installed a 160 kVA package transformer substation s to replace the old 63 kVA and completed commissioning of its relay protection.
In April, the plant plans to reach its full capacity, producing up to 6 types of dairy products from milk that comes from private holdings. Thus, we plan to solve the problem of purchasing surplus milk from the population.
This project was performed as part of the regional target program "Development of agricultural consumer cooperatives in the Lipetsk region for 2010-2012", which in the Lipetsk region is given special attention to as one of the most promising directions of development of small farms. Such associations are designed to provide employment in the countryside and meet the shopping needs of the people of for local products in the region.
Lipetsk power engineers of IDGC of Center are also involved in the implementation of regional programs for the development of physical culture and sports. By the end of 2012 in 2 district centers in the Lipetsk region — Dobrovsky and Izmalkovsky — there will be indoor swimming pools, construction of which is part of the Regional Program for the Development of Physical Education and Sports.
Power engineers of IDGC of Centre — Lipetskenergo division also contributed significantly to the implementation of these projects. To meet the needs of construction and further operation of the new sports facilities the power engineers of the branch constructed a power line and installed a transformer substation. The construction of the overhead lines was performed using self-supporting insulated wires with higher performance characteristics in comparison with bare wire.
In Dobrovsky district the power engineers constructed about 700 meters of a 0.4-10 kV conductor and installed a 10/0.4 kV transformer substation with its 160 kVA power for technological connection of the building with a swimming pool, boiler and water treatment facilities to the pool.
To connect the building with a swimming pool in Izmalkovsky district professionals of Lipetskenergo constructed about 700 meters of a 10 kV conductor, installed a 10/0.4 kV transformer substation with two transformers of 160 kVA and a 10/0.4 kV transformer substation with two power transformers of 40 kVA.
New sports facilities will provide additional opportunities for the development of sport and healthy lifestyle of the population.