11.03.2012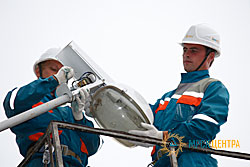 IDGC of Centre — Kostromaenergo division has performed the work to repair street lighting under the regional program "Light Bulb". The program was developed by the Administration of the Kostroma region in conjunction with experts of Kostromaenergo in January 2012. Implementation of the project was supervised by Headquarters in charge of power supply security under the Governor.
Kostroma power engineers of IDGC Center completed the restoration and modernization of street lighting networks of more than 200 settlements in the Kostroma region. Just for a month power engineers of Kostroma branch replaced about 700 outdoor lighting bulbs, repaired and changed more than 300 lighting fixtures.
We used the latest energy-efficient technologies and materials, in particular, energy-saving lighting fixtures with sodium lamps. They are characterized by the highest light output with less power consumption, resistance to low temperatures.
In addition, in certain localities experts of Kostromaenergo conducted a complete reconstruction of street lighting. Thus, in the village of Zemlyaki of Sharyinsky district 3.5 km of self-supporting insulated wire were installed, 15 new lighting fixtures and automatic control system of street lighting was installed.
After having implemented the program "Light Bulb" IDGC of Centre — Kostromaenergo division continues to work on the maintenance of street lighting networks under the existing agreements between Districts of Electrical Networks and local administrations.
"The challenge for the development and implementation of the 'Light Bulb' was set by the Governor of the Kostroma region, Igor Slyunyaev. Tight deadlines were set to restore the outdoor lighting networks. Power engineers of IDGC of Centre — Kostromaenergo division coped well with their task by doing a considerable amount of work in such a short period of time. Thanks to the fruitful cooperation of the regional administration with the management of the branch hundreds of streets in our region have become more lit and more comfortable", — says Deputy Director of the fuel and energy complex and tariff policy of the Kostroma region, Mark Krasilschik.