14.02.2012
On the day of the 69th anniversary of the liberation of Kursk from the Nazi invaders representatives of the Council of Veterans, Youth Council, the trade union committee, members of the executive office of IDGC of Centre — Kurskenergo division commemorated the participants of the battles who returned the freedom to Kursk.
Together with the residents of Kursk, government officials, clergy, businesses and public organizations power engineers came to the memorial to the fallen in the Great Patriotic War, where they laid flowers to Eternal Flame. The people gathered observed a minute of silence in memory of those killed in the battles for Kursk.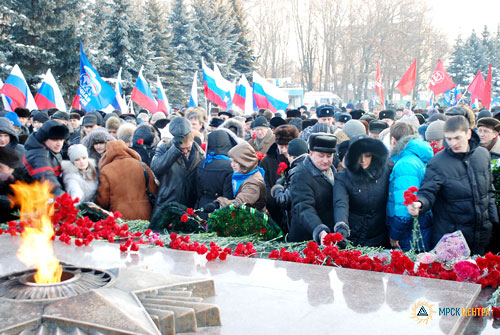 "February 8, 1943 — a special memorable day in the history of the Kursk region and the Fatherland. With unparalleled courage, valor and courage Soviet soldiers fought for the liberation of Kursk. We gratefully bow our heads before the blessed memory of those who liberated our hometown and won a great victory", — said Chairman of the Council of Veterans of IDGC of Centre -Kurskenergo division Dmitry Bozhak.
For courage and resilience shown by Kursk dwellers during the Great Patriotic War, Kursk was awarded the Order of the Patriotic War of the First Degree, and one of the first in the country awarded the honorary title "City of Military Glory".
Deputy General Director of IDGC of Centre — Kurskenergo division director Alexandr Pilyugin stressed: "Our fathers, grandfathers and great grandfathers not only survived, won that war, but were able to restore the ruined city, enterprises, and power industry. Feats of arms and labor of many generations of Kursk dwellers will always serve as an example of heroism and courage for the younger generation".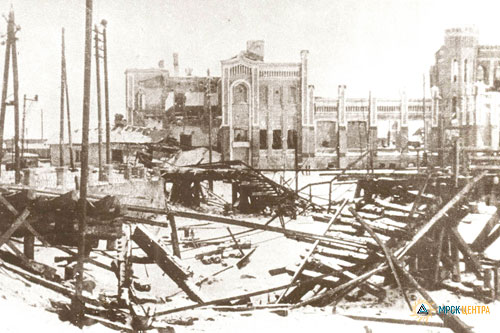 For information:
February 2, 1943 Operation "Star" began on the liberation of Kursk, which was carried out by the 60th Army of the Voronezh Front, commanded by Major-General Ivan Danilovich Chernyakhovsky. By the evening of February 7, Soviet troops approached the city, and on the night of February 8, the soldiers of the 60th Army under General Chernyakhovsky freed it. For the successful conduct of the operation twice Hero of the Soviet Union, I.D. Chernyakhovsky was awarded the Order of Suvorov, 1st Degree. He was awarded the next title of lieutenant-general. He died in 1945 at Konigsberg. A street in Kursk was named after him.