06.02.2012
Kursk power engineers of IDGC of Centre congratulated the project designer of the executive office building of Kurskenergo — Kursk known architect and artist Victor Petrovich Semenikhin, who is 80 years old.
Built four decades ago, the building remains multifunctional: it headquarters the main divisions and the infrastructure necessary for full operation of the executive office of the branch.
From the premises of the Grid Control Center of Kurskenergo operators monitor and control the operating mode of the distribution grid of the Kursk region. It also houses the supervisory control panel of "Kursk Transmission Control Centre" — a branch of SO UPS "Regional supervisory control over the power grid of the Kursk and Orel regions".
All digital communication centers and other important equipment have uninterrupted power supply, which ensures reliability in the electricity supply to industrial and residential consumers.
"The vision of the architect is manifested in the laid possibilities at the design to construct new floors, upgrade the building, — said Deputy General Director of IDGC of Centre -Kurskenergo division director Alexandr Pilyugin. — Several years ago it became necessary to build an attic-floor room. Our office was one floor up, and we had additional 1,000 square meters of space. This made it possible to resolve many issues, including the opening of the Museum of the History of the Power System of the Kursk region".
Receiving congratulations from Kursk power engineers, Viktor Semenikhin noted: "I had the honor of designing the building, which is stably associated by residents of Kursk with the reliability, utilities and power engineers. It is a decoration of the architectural ensemble of the Moscow square. As an architect, I am pleased that my creation is beautiful and well maintained, it develops, and thus lives".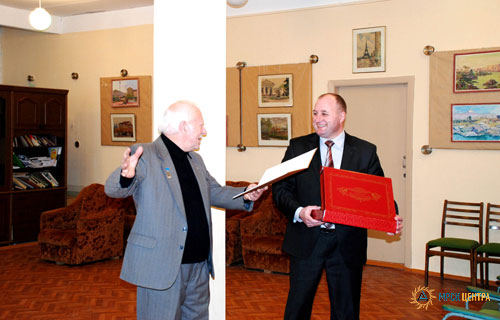 For reference:
Victor P. Semenikhin — architect and artist, since 1962 member of the Union of Architects. Honorary Architect of Russia (2001), he was awarded a gold medal "For dedication to the community of architects" (2002), silver medal of the USSR Exhibition of Economic Achievements also marked his design for the landscaping around the covered Central market of Kursk (1988)
Major projects of the architect, in addition to the building of Kurskenergo: Monument to "Hero-pilot of the 16th Air Force Army" and "Heroes- tankers — participants of the Kursk Battle", as well as North-West residential neighborhood of Kursk, the city's first 12-storey residential house at the Moscow square.