20.01.2012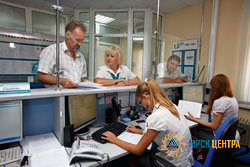 During 2011 the Customer Service Centres (CSC) and relevant specialists in the Districts of Electrical Networks (DEN) of IDGC of Centre — Smolenskenergo division were visited by 50 625 people. This indicator is 69% higher over the previous year. Most of all customer requests still refer to the technological connection to electric networks of the branch (35% of the requests) and additional services (36% of requests).
In March 2011 the Customer Service Centre in the city of Smolensk marked its three-year anniversary, and two months later received its twenty thousandth customer. It was a resident of Smolensk Svetlana Melkina, who used the services of the Center for the first time.
"Visiting Customer Service Centres and marketing and customer interaction departments in the Districts of Electrical Networks branch, customers can get the necessary advice on the terms and procedure for issuance of technical conditions and connection to the electricity grid of the branch, the full information on additional services provided by Smolenskenergo, as well as all matters relating to electricity supply. Here applications for technological connection are accepted and issuance of all necessary documents is made,"- commented Head of customer interaction Office of Smolenskenergo Alexander Wojciechowski.
The most convenient form of application for 79% of customers was a personal visit at the CSC or a specialist of marketing and customer interaction department in the DEN, 21% of customers prefer the extra mural form — by the around the clock direct Power Hot Line phone at 8-800-50-50-115 (toll-free), via the Internet reception on the Company's website at www.mrsk-1.ru.
Smolenskenergo constantly strives to improve the quality of services provided, use of modern technologies and communication channels to make the process of interaction with customers as easy as possible.