30.11.2011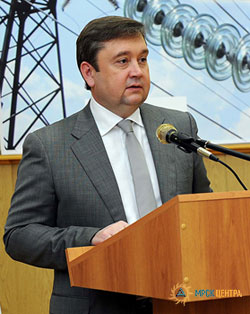 Power engineers of IDGC of Centre — Tverenergo division met with Governor of the region Andrey Shevelev. Mechanisms of interaction between the regional authorities and the branch of the electric distribution grid company were discussed at the meeting.
Andrey Shevelev congratulated all employees of Tverenergo with the upcoming 75th anniversary of the power system. "When you see the slogan that promises to bring light to every home, you believe that it will last forever. You really reinforces your promises with real actions", — said Andrey Shevelev.
Governor stressed that IDGC of Centre — Tverenergo division pays great attention to social responsibility. Employees of the division conduct a systematic work on the formation of a personnel reserve and the involvement of young people. Tverenergo works successfully even in the toughest situations. Two years ago, the fault location, isolation and power restoration used to take 15 hours, but now it has decreased by more than 2 times.
Government of the Tver Region intends to work closely with Tver power engineers, including the implementation of partnership with administrations of cities and districts, heads of municipal utilities.
Andrey Shevelev thanked Deputy General Director of IDGC of Centre — Tverenergo division director Alexander Eyst for the installation of street lighting in some localities. "I am grateful that you have responded and understood the problem quickly and efficiently by installing street lighting in cities of Torzhok and Rzhev, as well as other locations, you have helped people, and removed the social tension", — concluded Governor.
Alexander Eyst, in turn, noted: "Tverenergo is given trust by those who are for efficiency, quality, a high level of service. And the power engineers are not going to lower their achieved level".
Summing up, Andrey Shevelev and Alexander Eyst awarded diplomas and letters of thanks of Governor to veterans and distinguished employees of IDGC of Centre — Tverenergo division.