24.11.2011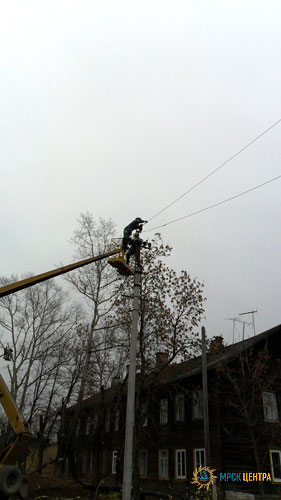 Power engineers of Buoysky District of Electrical Networks (DEN) of IDGC of Centre — Kostromaenergo division in 2011 have removed more than 300 dry poplar trees threatening the power supply from the streets of the district center. Clearing off the trees began immediately after the agreement was reached with the City Administration.
"Greening of the city of Buoy began in the 30s, but today the 70-year-old trees represent a considerable danger for all people, their homes and transport, — says Head of Buoysky DEN of Kostromaenergo Valery Ivanov. — Power engineers are primarily concerned that the trees, which had reached 40 meters in height, could fall down in any adverse weather conditions and damage power lines".
So, last summer there were two hurricanes in Buoy. Squally winds fell a few dry trees and the city was almost completely de-energized. For early elimination of the contingency other Districts of Electrical Networks of Kostromaenergo were also involved in the power restoration.
The removal of the poplars was performed by the power engineering together with the City Administration and the division of EMERCOM. At the beginning of the year 100 trees were fallen by hand. The work continued in the autumn already with the felling machine. The entire bank of the river Vexa was cleared off, which significantly increased the reliability of power supply throughout the downtown area, where administration buildings, offices, schools and cultural institutions are located.
In addition, the power engineers together with the administration have set up the work of clearing off the trees from the bucket, that is gradual trimming the tree starting from the upper branches. In this way 2-3 trees were removed a week.
Instead of the cut down poplars the power engineers are planting young trees. In the spring the employees of Buoysky District of Electrical Networks planted 100 pine trees from the center of the bridge over the river of Vexa.