01.11.2011
According to Decree of President of the Russian Federation for great contribution to the development of power engineers, for labor achievements and many years of good work Chief of Staff of IDGC of Centre — Belgorodenergo division Vladimir Ryndin has been awarded with the honorary title "Honoured Power Engineer of the Russian Federation". This high reward was given to Vladimir Ryndin by Governor of the Belgorod region Evgeniy Savchenko.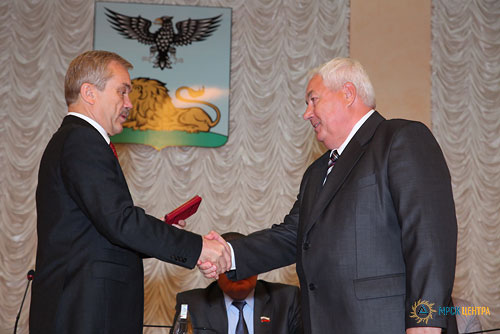 Vladimir Ryndin came to the energy sector in 1969, after graduating from Kharkov Electromechanical College. He worked as an electrician in Eastern District of Electrical Networks of Belgorodenergo, soon he became an engineer of measuring service. The rise through the ranks was rapid for the young professional, though not without difficulties. In 1975 he became head of the repair shop and in 1998, having worked as chief of measuring service first, and then as a senior engineer of reliability group, he was appointed head of production department "Eastern District of Electrical Networks". In total, Vladimir has dedicated for over 40 years of life to the utilities industry and remained faithful to the profession.
"There are four strategic sectors: military, energy, railways and communications, — says Vladimir. — If they do not exist, then there will be no state. While the power grid operates, the region is living".