26.10.2011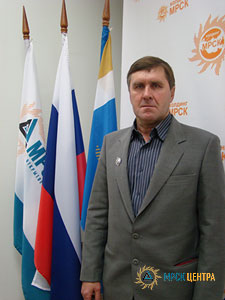 Governor of the Tver region Andrey Shevelev handed to the electrician of a crew of Rameshkovsky District of Electric Networks of IDGC of Centre — Tverenergo division Sergey Samsonov the Award "Honoured Power Engineer of the Russian Federation". In accordance with the Decree of Russian President Dmitry Medvedev the state award was given to Sergey Samsonov for achievements in the field of utilities and many years of good work.
Presenting the award, Andrey Shevelev noted that this great personal contribution of Sergey to the development of the utilities industry of the Tver region is properly appreciated: "It is proof of the recognition of professional achievements, the best human qualities and long-term activity for the benefit of the country and the Upper Volga region".
Sergey Samsonov has been working in the utilities industry for 38 years — the years of good work and dedication. With the direct participation of Sergey the works on reconstruction and repair of power equipment are performed: poles are installed and replaced, wires' stretching on the power lines is performed, substations are repaired and ROWs are cleared along the power lines. With the accumulated knowledge and vast work experience in the energy sector all work is performed by him in a professional and timely manner.
"Being a power engineer is a big responsibility and hard work. We understand that comfort in the homes of thousands of people depends on us. Bringing the light is an honor! "- said Sergey Samsonov.
Dignity and professional achievements of the power engineer is not neglected. Sergey has the medal "For Good Labor" and the Diploma of the Ministry of Energy of the Russian Federation.
"The team of Tverenergo sincerely congratulates Sergey Samsonov with the new award — 'Honoured Power Engineer of the Russian Federation' and wishes him all the good, well-being and new operational successes", — said Head of Human Resources Office of the division Sergey Zhirkov.