15 September 2021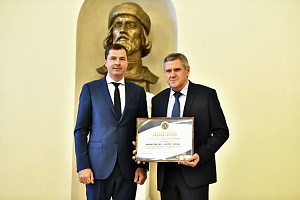 The branch "Rosseti Centre Yarenergo" became the winner of the competition "The best enterprise in the city" by the end of 2020 in two nominations — "For high performance indicators and contribution to the socio-economic development of the city" and "For contribution to environmental protection".
The city competition "The best enterprise in the city" has been held by the mayor's office since 2000. This year 40 organizations took part in it. The winners were presented with diplomas by the mayor of Yaroslavl, Vladimir Volkov. He greeted the audience and thanked them for their active participation in solving issues of the economic, social and other spheres of the city's life.
"Rosseti Centre Yarenergo" is the largest power grid company in the Yaroslavl region, which is responsible for 87.9% of the region's power grid assets. Power engineers systematically modernize the power grid infrastructure, implementing social and environmental projects.
The branch implements an environmental safety program, and respect for the environment is considered an integral part of production activities. In 2020, the branch allocated over 13 million rubles for environmental protection measures.
"High performance indicators are the result of fulfilling the tasks set before us by Igor V. Makovskiy, General Director of Rosseti Centre and Rosseti Centre and Volga region. We will continue to work intensively to further contribute to the socio-economic development of the region," stressed Igor Sharoshikhin, Deputy General Director - Director of the branch "Rosseti Centre Yarenergo".
"Behind each of those present in the hall today are entire teams who, through their work, ensure the growth of the economy and the development of the social sphere of Yaroslavl. Victory is the result of well-coordinated work of the entire team of any organization — from director to worker. Thank you for your work for the good of the city, for your active life position and wish you further success!" said the mayor of Yaroslavl Vladimir Volkov.