7 September 2021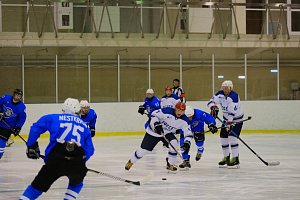 For two days in Moscow, 8 hockey teams fought on the ice arena of the "Yantar" Sports Palace. The honour of the Companies was defended by employees of the branches "Belgorodenergo", "Lipetskenergo", "Tverenergo", "Yarenergo", "Kalugaenergo" and JSC "Motor Transport Company".
The tournament among companies of the fuel and energy complex with the support of the Ministry of Energy of the Russian Federation has been held since 2016. In the 2019 competitions, Rosseti Centre's team took the first place. No sporting events were held in 2020 due to restrictions related to the coronavirus pandemic.
On the first day of the qualifying matches, our guys won a landslide victory over the team of "Gazprom energoholding-2", which allowed them to reach the Golden Final. According to the results of the games, they took the 4th place.
"Hockey is a truly creative and uniting game that allows both players and fans to feel like part of a friendly team. When you play with a person, when you support him, it is easier to find a common language with him outside the sports field. The guys played all the matches with dignity, showed real fighting qualities. Our team does not lack professionalism and talent. I sincerely congratulate our team on this high result!" stressed Igor Makovskiy, General Director of Rosseti Centre and Rosseti Centre and Volga region.